Are you wondering how to increase your reach and promote your podcast? Are you looking for a promotion strategy that increases downloads?
The good news is that you can create a strategy that increases your downloads over time by cultivating a relationship with your ideal listener. The bad news is that it won't happen overnight, but that doesn't mean you can't make an impact pretty quickly.
Here's the deal, this post helps you understand the "what" behind promoting your podcast. While I have actionable next steps and what's hot in the industry, this post focuses heavily on how each platform is used and where it serves you in the sales funnel. A massive mistake that wastes time and money is starting on the "how." If you jump into paid advertising without establishing a strategy, you are wasting money, and likely won't achieve the desired results.
My challenge is to spend time on the "what," aka the strategy behind promoting a podcast, so when you start refining the "how", tactics, it's easier to understand their performance over time.
You don't need to be a marketer or digital advertiser to grasp these concepts!
This post gives you a push in the right direction, so when you try new tools or tactics, you understand the right questions to ask like, "Will this reach my ideal listener?" or "How does this increase engagement with my audience?" and even, "What ad type are we using? Do we have the right ad to help with this conversion?"
Marketing & advertising terms you need to know:
Sales Funnel: Know – like – trust – try – buy – repeat – refer 

Frequency: How often you need to post on a platform

Felt-need: An emotional need for your ideal listener/client/donor/etc. For example, a cleaning company doesn't just sell a clean home; they sell more time. More time is felt-need.

Conversion: The action you want a person to take. It might be a download, click-through, or email opt in. 
Audience Sharing For Podcasters
To grow your audience and sphere of influence, you need to attract guests that share your ideal audience so they can add to the message of your show, and you can add to theirs. Together, you both increase your credibility and help your brands rise. Audience sharing is mutually beneficial and is one of the strongest ways to build a podcast.
In essence, audience sharing is the tactic of being a guest or having a guest on your podcast that share your ideal listener.
Audience sharing is a tried and true process for podcasters, just like any other type of content marketing or thought-leadership development. By going onto a show that shares your ideal listener, you have the opportunity to reach like-minded people. And by inviting guests onto your podcast with an audience you want to reach, you connect with these followers when the guest promotes their interview on your show to their platform.
Now, if you are a show that only does solo episodes, you can still audience share! You may not invite people to your show, but you can be a guest on other shows that share your ideal audience. The key is clearly communicating your area of expertise and value; when this is refined, it's easier to become a sought-after podcast guest for your topic. This is true for any podcaster that wants to be a guest on another show.
Quick keys:
Pursue guests that have an existing platform where your ideal listener hangs out.

Make sure your value, area of expertise, and message are clear.

Refine your message, so it's easier to become a sought-after guest.

Only invite guests that add to your message and nurture your ideal listener. 
Next steps:
Work on a solid guest list for the next six months, including your dream guests. As your show grows, that dream becomes more attainable. 

Make it easy for guests to share their episodes with branded quotes, stories, reels, short videos, and other social media content.

Suggest yourself as a guest on relevant shows that share your ideal listener where you can add value. Start with people who have a podcast and have been a guest on your show. Leverage your relationships.
Hot strategies in 2022:
Help a Reporter Out (HARO)

 is a service that connects journalists with authoritative sources. By enrolling in the platform as a source, media people will reach out to you when they have questions or need comments for articles, TV, or radio. In exchange, they'll quote you and link to your site.

Use

Podchaser

to find guests and be a guest.

Podchaser

is referred to as the IMBD of podcasting.
MatchMaker

 

is the Tinder of podcasting guesting and it's free! Use it either to find podcast guests, or to put yourself forward to be a guest on other shows.  
PodGuests is a subscription service that will help you get booked on podcasts. 
Key performance indicators: 
Social media engagement (on your and the guest's platforms promoting the interview)

Downloads (For your and the guest's podcast)

Email subscribes (On your platform)

Website visitors (On your platform)
Social Media for Podcasters
The first key to using social media to promote your podcast is to go where your ideal listener hangs out. The second key is to use that platform how it is meant to be used. That means you need to understand what type of media is being rewarded on that platform and then figure out how to do this well. 
No matter what you do on social, if you want your content to perform, it needs to pull at your target audience's heartstrings and hit a button. In marketing jargon, we say it needs to strike a felt-need, quickly. So don't bury the lead in a 3-minute video; share the hot take! 
Social media is typically used as a tool at the top of the sales funnel. So when you create a social media strategy for your podcast, the goal is to increase "know" and "like." That means you don't want to simply post. Post in a way that waters the seeds of relationship! Demonstrate who you are, the knowledge you have to share, and the personality of the podcast. 
When you look across your social media, it should be abundantly clear who you are, what you have to say, and who you are targeting. Start with a solid strategy to drive people to your podcast and increase downloads. 
After you have a solid strategy, you need to keep showing up. Like any marketing activity, if you don't establish a consistent frequency, you start experiencing diminishing returns. It's tough to evaluate how well your content is doing if you don't show up often enough to reach people.
Quick keys:
Go where your listeners are

Hit felt-needs quickly and clearly

Use platforms how they want to be used

Spend time on what works

Show your personality, knowledge, etc.

Be consistent and establish the correct frequency by platform.
Next steps:
Identify platforms where your listeners hang out by researching user demographics.

Determine what type of media is rewarded on platforms where your listeners scroll.

Understand how often you need to post to reduce diminishing returns.

Hire a social media strategist who can ensure the right messages and media are used across platforms and will improve content based on metrics.
Hot media on social in 2022:
Instagram: Reels, stories, live collabs, carousel posts

Facebook: Live video, reels, stories, live collabs

TikTok: Video, collabs, 

LinkedIn: Live video
Key performance indicators:
Reach

Impressions

Engagement rate

Click through
Email Marketing for Podcasters
Email is critical to any marketing strategy that strives for longevity and strong customer relationships. Social media changes, user demos change, and sometimes it even gets shut down – social is a necessary tool in your toolbelt, not the end goal. That means that social is often used to traffic people to your website, build a relationship, and ultimately get into your funnel. And how do people usually get into your funnel? A free download collected in exchange for an email address. 
Email is one step deeper from social media in your funnel. If social is at the top, increasing "know" and "like" email is one step deeper, cultivating "trust." In other words, someone has to know and like you before they are willing to input their email and hear from you more often. 
The key to building your email list for podcasters will be offering free resources or exclusive content. You can provide this free offer through the social channels you build to reach listeners, in your show notes, and even verbally on the pod. Now, if you want this resource to be successful, it has to hit a strong need for your ideal listener and solve a critical problem. When someone says, "I have a free resource, but it just doesn't convert." It's like the ideal listener doesn't see the need, or it's too hard to opt in. To fix this issue, you need to drill deep the value of your free resource and the process you use to promote it.
Now, if you have an existing email list tied to your brand, you'll only see those people convert to podcast listeners if they are your ideal listener. So don't promote your podcast to a list that isn't your podcast audience – it's a fast way to get unsubscribes. 
Once you determine your free resource and promote it well, you must ensure that this list is watered only with the content they want. To nurture an email list and see fewer unsubscribes over time, establish consistent frequency, and only offer content that this list wants. Whether you have a personal letter or newsletter, make sure when someone opens that email, it's content that is relevant to their experience with the podcast and your free opt in. Send out new episodes, relevant reading, personal notes that cultivate relationships, relevant tools… you get the idea. Stay focused and stay consistent. 
Quick keys:
Curate a listener list by offering a free resource that your audience wants.

Promote the podcast to your existing list if they are your ideal listener.

Send content that cultivates a personal relationship and is relevant to why they signed up. Stay focused on what content you send out, so you see fewer unsubscribes.
Next steps:
Create a free resource or come up with exclusive content to entice your ideal listener to opt-in 

Only use your list to share exactly what was promised to your subscribers. If you drift from the original reason they signed up, a free resource related to the pod/pod content/related content, you'll see unsubscribes. 

Make sure it's easy for your audience to act and join your list.

Be consistent and send weekly/biweekly/monthly as promised
Hot strategies in 2022:
Personal letter format for thought-leaders and people who ARE their brand

Newsletters for heavy content producers – be the resource curator they want (if that's you)

Exclusive content by list 

Ethical opt-in and opt-outs 

Clear and tailored content by list 

Less frill, more depth of message
Key performance indicators:
Subscribe rate

Open rate 

Click through rate
Digital Ads for Podcasters
Digital ads are a powerful way to promote your podcast, but they come with an expense. So when reviewing what type of digital advertising is best for your show, stick to the golden rule – am I advertising on a platform where my ideal listener hangs out? 
From there, your next step is determining the conversion you're looking for (click-through, engagement, lead gen); this will inform your ad type. And the last thing you do is work on the messaging and media that will propel conversion for the ad type you choose. Remember, your ad messaging should be built off branding work you have already done for the podcast – you shouldn't be working from scratch. If you haven't done branding work for your podcast, not visual branding, I mean honing your message and ideal listener, then you're starting backward, and you might be wasting dollars by jumping into digital ads. 
Popular digital podcast advertising includes leveraging Meta (Facebook and Instagram) advertising tools and promoting your show on another podcast that shares your audience. If you use Meta, it's critical to determine the right audience and conversion. Likewise, it's vital to reach the right listeners for audio ads on another podcast.  
Digital ads don't succeed when they don't connect the right audience with the right message and aren't optimized for the right action. 
Quick keys:
Advertise where your ideal listener hangs out

Ensure ad messaging, imagery, and media type quickly and effectively hit a felt need with an obvious call to action 

Dollars spent should meet a clear and measurable goal

Optimize your ads for the desired conversion 

Understand benchmarks for ad types, so you know how well your ads are performing 
Next steps:
Start by simply creating a solid social media post strategy 

Boost posts for either engagement or click-through (depending on your goal), and make sure your audience is "people who like my page and look like my followers" or create a tailored audience based on website visitors or other factors

Get with a digital marketer who can make sure ad spend is maximized and long-term goals are met. Learn more here.
Host strategies in 2022:
CPC campaigns to SEO optimized episode pages on your website

"Be seen everywhere" retargeting campaigns 

Look-a-like audiences to increase reach and impressions

Funnel campaigns to increase lead generation for ideal listeners

Advertising on other podcasts that share your ideal listener
Key performance indicators: 
Do you see a correlation between downloads and ad runs?

Conversion rate (Click through, Engagement rate, Video views, etc.)

Time spent on page (when you traffic to a post on your website with an episode player, show notes, etc., you'll want to see time on page increase for your website while that ad is running)
Websites for Podcasters
A podcast's website or landing page helps increase credibility, serves as a promotional tool, and allows you to create a hub of resources for your ideal listener. If you plan to run digital ads, you need a website.
Remember when we talked about building an email list? Your website or landing page is where you'd send listeners to opt in with their email in exchange for that free resource or gated content. That means your website serves a role in the "try" area of the sales funnel of know-like-trust-try-buy-repeat-refer. When they land on the website, they know, like, and trust you. They are ready to try and further their relationship with your brand.  
That means it will be critical for you to generate a strong user experience on your website or landing page. If your podcast serves a bigger brand, it makes sense to have a landing page off of your main site. However, if your podcast is a stand-alone deal, creating a website fully dedicated to the show is worth your time. What you don't want to do is create a landing page for your podcast off an existing brand website that doesn't share your ideal listener – this won't help either target audience. 
The key here is to leverage your website or landing page as a hub for promotion for your ideal listener. Showcase new episodes, share your free download to generate your email list, and use this as a promotional tool for the show. When listeners are looking for more, this is where you send them. SEO, Search Engine Optimization, is critical for any brand. When you post new episodes to your website with an SEO strategy, you help your entire website rise over time – this is the goal! 
Adding new episodes to your website or landing page makes promoting each episode easy across marketing channels. Check out how to create SEO show notes here; there is even a section on how to build this out in WordPress. 
When someone searches for your podcast, the website becomes another search engine result in Google, and you aid this process when you add episodes using our SEO show notes guide. The website can go beyond what is shown on a podcast app like Apple Podcasts or Spotify and further develop the listener experience. 
Quick keys:
When someone lands on your website or landing page, do they quickly and easily understand what the show is about and how it serves them?

Improve the user experience on your website. Is it easy to navigate and optin to your funnel?

SEO optimize your episode posts. Learn more here.

Remember, SEO is a long game; add to SEO with every new episode.
Next steps:
Do an SEO site review.

Make your website a hub that offers more to your listeners.

Improve your user experience and email opt in.
Add SEO episode posts to your site, so it's easier to create social media backlinks and increase your site's traffic.
Hire the right help so you can launch a podcast website that converts and helps your brand rise. Learn more here.
Hot strategies in 2022:
Build out a podcast landing page or podcast website 

Leverage SEO and establish backlinks to your site through episode posts

Leverage a key website landing page through digital advertising and increase downloads while increasing site traffic
Key performance indicators:
Visitors (unique and revisiting)

Time spent on page

Bounce rate 
Promoting a podcast takes time and, most importantly, strategy. Don't throw spaghetti at the wall! When you promote your podcast successfully, each tactic should have a goal, does doing XYZ reach my ideal listener, build a relationship with my audience, traffic people to my website, and over time increase downloads? 
What you can implement right now:
Start audience sharing. Curate a strong guest list with a platform you'd like to reach and start reaching out to other podcasts that share your audience for guest or advertising opportunities. 

Create intentional social media posts and stop posting just to post. Make sure your ideal listener hangs out on these platforms. Learn what media these platforms reward.

Hire help. Maximize your time and effort by connecting with the right podcast strategy and promotion partner. You can hire someone to post on platforms, or you can hire someone to move the needle. Learn more here. The monthly membership for hosts that want to grow their tribe, downloads, and influence.
The Podcast Growth Membership is a one-stop shop for the strategic insight and easy-to-implement tools you need to grow your podcast. Improve the quality of your show, promote episodes with ease, increase your social presence, and create rinse-and-repeat systems that help you thrive.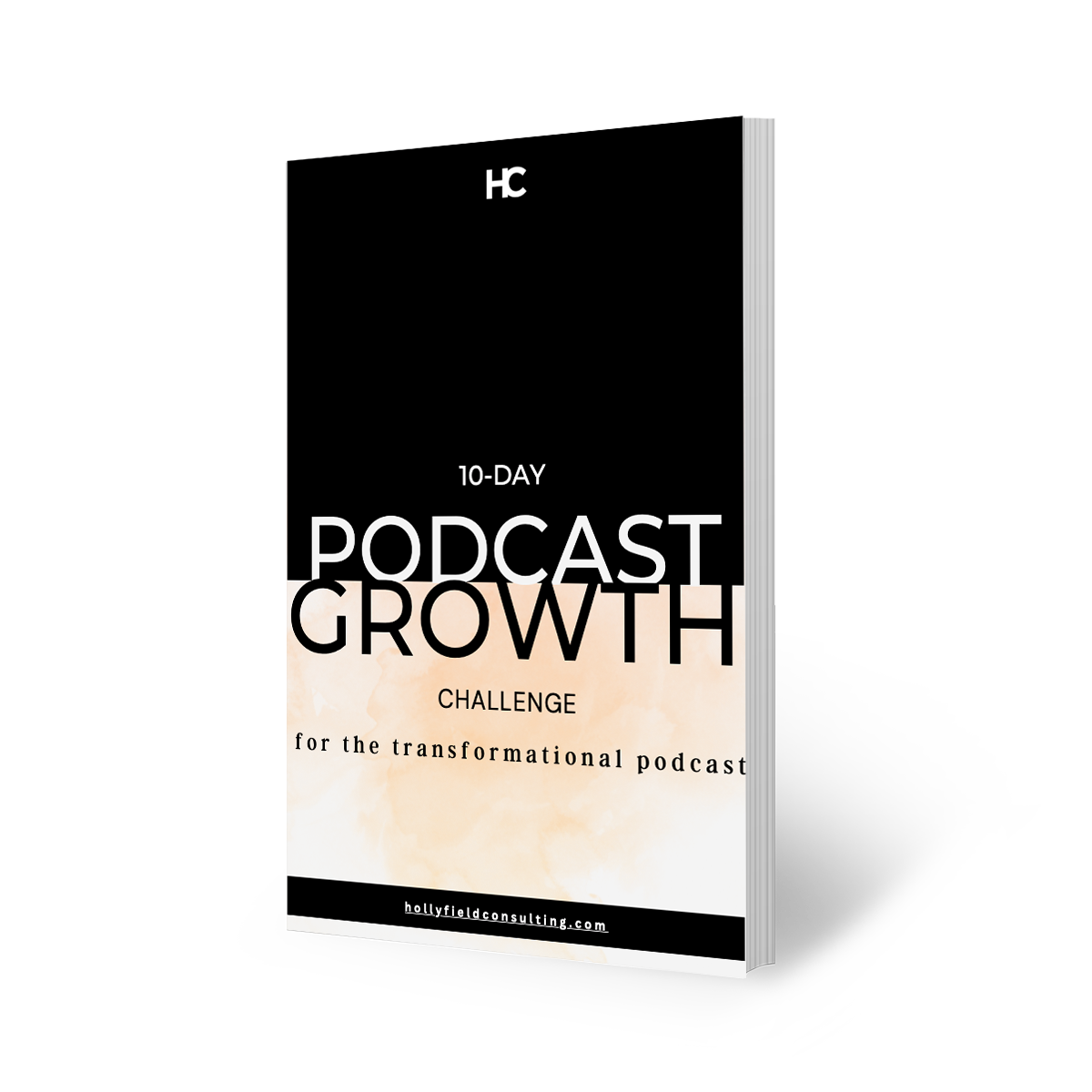 10-Day Podcast Growth Challenge | Free Download
There is no secret sauce! Podcast growth is simple, but it's not easy.
This ten-day challenge will ask you to drill down on your audience and the value you deliver. The truth is if you don't have a clear message that solves a problem for a specific group of people, it won't matter how much money you spend or how balls-to-the-wall you go with tactical promotion – your podcast won't see long-term subscriber growth. This challenge best suits transformation podcasts trying to take someone from A to B.
Grow your podcast and yourself in this ten-day challenge.