Want to know how to launch your podcast faster with more confidence?
Get our FREE "Podcast Idea to Impact" Guide
This free checklist and guide will show you step-by-step the strategies, tech, and skills you need to create a podcast show that attracts your perfect audience and inspires them to join your mission to change the world.
Somethings gotta change if you're going to create change.
Your great ideas are collecting dust while you stay stuck and overwhelmed by all that's involved with launching your podcast.
Can you relate to any of this?
You're an idealistic social entrepreneur. You want to create a business, organization, or movement that makes a powerful difference in the world. And you know that to make that happen, you need to get out there and inspire people with your unique message and vision for change, starting with your podcast BUT, you're struggling with:
All the ideas swirling around in your head for your podcast and how to identify the best ones to focus on for your podcast.

The learning curve with all the tech – what microphone, lighting, and recording equipment do you need that suits your location and budget?

Creating a show that is inspiring – how do you structure and share your ideas in a way that motivates your audience to your mission?

Those voices in your head that make you question yourself: how do you know that if you launch your podcast, it won't be crickets?
We get it, and we're here to help!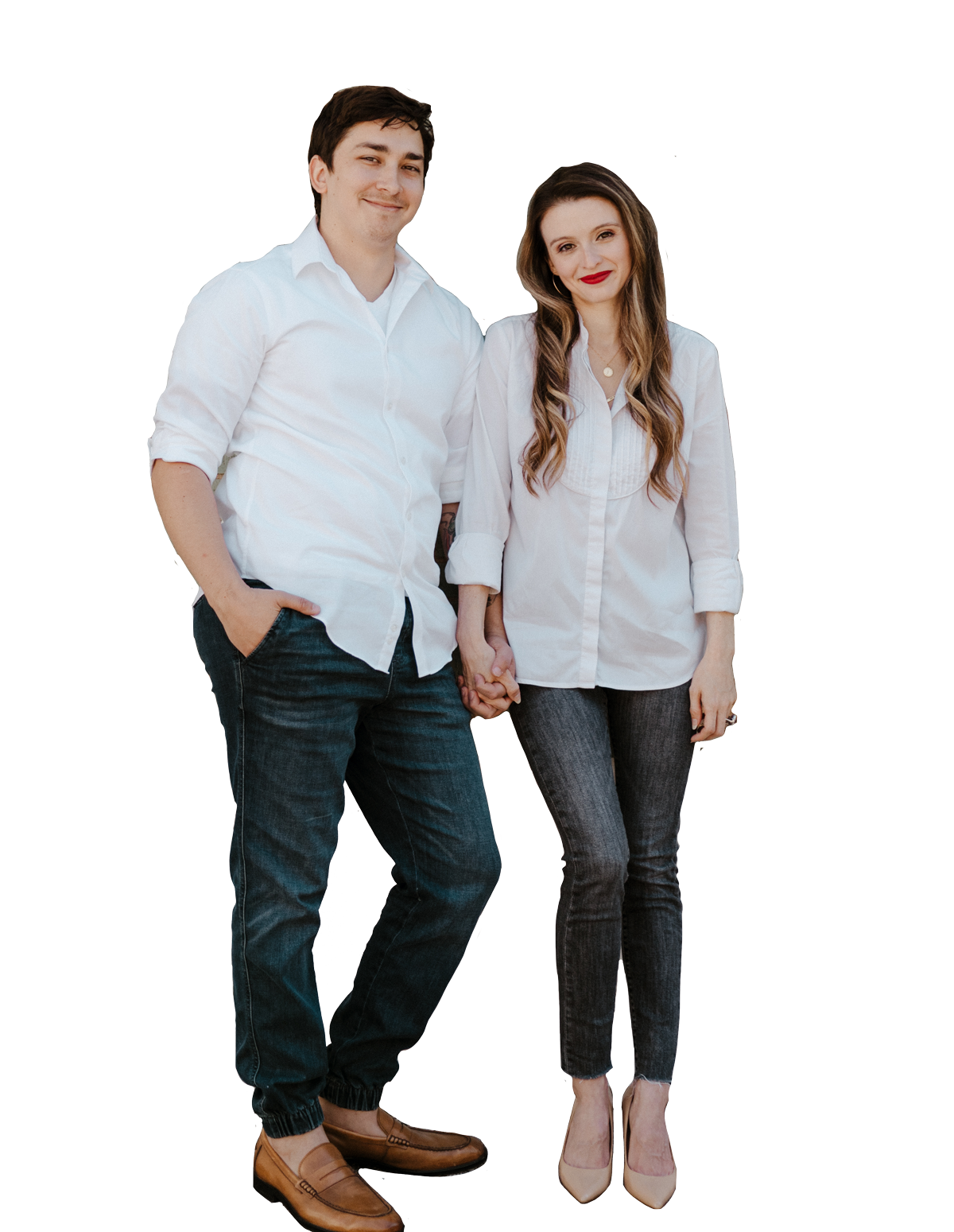 Hi! We're Samantha and Nathan
We create powerful podcast platforms for social good entrepreneurs and their world-changing ideas. Simply put, we help design and produce podcast shows that showcase the change you want to see in your listeners and the world. Expert knowledge and experience in online marketing, audio/video production, and messaging are what we use to help our clients STRATEGICALLY build a podcast platform that connects with the hearts and minds of their ideal audiences. Nothing makes us happier when our clients gain the confidence and clarity to achieve their mission and develop stronger relationships with the people they serve using the strength of their great ideas.

Work with us!
As your podcast strategists and implementation team, it's our job to:
Help you develop a fine-tuned, step-by-step show strategy that serves your overall marketing funnel and your mission

Set up a home studio that allows you to maximize audio and video quality and your budget

Enable your show to cut through all the noise and get people to want to listen in and subscribe to your channel

Teach you how to create engaging podcast episodes that convert listeners into clients, donors and/or buyers

Help you produce more high-quality episodes in less time, giving you more space to focus on your message and the work you love

Infuse you with rock-solid clarity and confidence in your ideas that are destined to change the world
Our mission is to activate yours in the world through our podcast strategy, training, and tech implementation services.
You deserve a partner offering personalized support and marketing-driven solutions.
What people are saying:
"I gained personal confidence as a result of working with Samantha as she educated me and gave me the resources I needed to feel knowledgeable."
"You are very caring, patient and personable. You were able to easily capture our vision and present it with excellence."
"Samantha is very personable. She asked a lot of questions and wanted to truly get to know what was in my mind and heart as far as what the message is I need and what I want to accomplish. She's easy to work with and to understand and communication has been very simple. She's done all the hard work while I simply answer her questions."
"My work capacity has been enlarged, and I am able to connect my own business with other leaders around the globe."
"The Hollyfields are very caring, patient and personable. They were able to easily capture our vision and present it with excellence."
"Everything for me was very scattered. Making it difficult for me to check on things or to see what I needed. I also liked the experience to know what kind of things I needed. After speaking with Samantha it was made very clear all that I was missing and what they could help me do."
"Personal contact and the careful, thoughtful transmission of our company, it's culture, and brand. Others just slapped together things they grabbed from their experience and our existing marketing collateral."
"I feel I have regained control back over the message I'm sending out am I ability to interact with my followers. Knowing everything is all in one place is much less stressful and helpful in moving forward and growth."
"We significantly increased our presence on-line and we expressed our fun, quirkiness, and other cultural aspects of our business. We actually did marketing."
Now imagine our work together is complete…
What will be different in your career and life once you finally have a podcast channel attracting and engaging listeners and converting them to the social-good vision you have for the world?
Imagine…
• Knowing you are having an impact on the social-good causes you care about
• The peace of mind and satisfaction that comes from having a business, organization, and movement is thriving
• The daily joy that you'll experience when you're growing creatively and in the flow of sharing your ideas